In this tutorial,i will teach you to how to make your Rainmeter Notes skins to sync with your Dropbox account.In this example i had used Easy-Art Notes.You can also use this tricks with other Rainmeter notes skin.
Requirement:
* Windows with Dropbox installed.
* Easy Art Notes ( http://easy-art.deviantart.com/art/Notes-187393832 )
Steps:
1.Download and Install Easy Art Notes from above links.
2.Add it to your Desktop.
3.Click on it,it will show a Sample Notes.
4.Right Click on it and Choose Edit Skin Option like below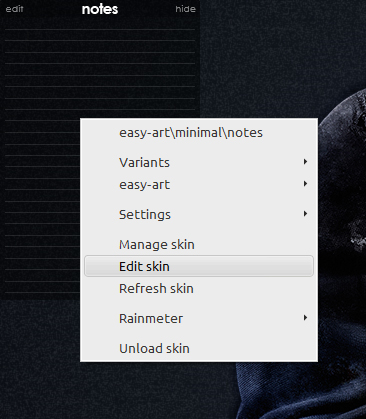 5.Now change the location where you have your Dropbox  folder to save your notes and sync it.

As per above picture it will create a file on Satheesh folder
6.Save it and Right click on Notes skin and click on Refresh Skin.
Now click on edit button and click on Yes button to create a new file.
Now your notes will sync with your Dropbox account whenever you edit your notes on your desktop.